Meet the Taos Mountain Outfitters Team:
BILLY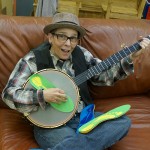 When he isn't talking to customers about foot ailments, Billy Stewart (aka Banjo Billy) can be seen around Taos playing his banjo with various other musicians. A former punk rocker and surfer, Billy has been in the shoe world for over 30 years and moved to Taos almost 10 years ago.  He organizes several bluegrass jams and can be heard most Monday evenings at the Taos Inn open mic.  A self-described former tree-hugger, Billy enjoys the outdoors and loves to find a special place on the trail to open up his banjo case and play a few tunes.
 GREG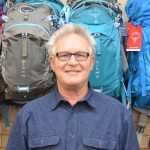 Starting his 15th summer with TMO, Greg "Hollywood" Sagemiller is known throughout Taos and the TSV community.  In wintertime, Greg manages Terry's Sports at TSV.  But that isn't all he does. He keeps busy promoting his first novel, Walking Earth, released in the spring of 2012 – and also writing the sequel which will reveal the further adventures of Howie and Kika, expected to be released soon.  He is a trustee and past president of the Taos Archeological Society and the Archeological Society of New Mexico. He and his wife, Rebecca, a local jewelry designer, are always off on a new exciting adventure.
JASON

If you have been helped on a Sunday by an easy going, knowledgeable young man, then it was Jason who probably helped you. With coffee container in hand, Jason's familiarity with our various products can help make your shopping experience informative.  Jason keeps busy during the week with his craftsman and construction projects, and enjoys his free time with his wife Rachel and daughter, Sierra.
 MEGAN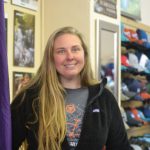 Megan is a Florida native who has spent the last three years in Taos.  She has taken a break from surfing to explore the mountains of New Mexico and Colorado.  Megan loves to hike, backpack and mountain bike.  She knows the local trails well and is a good source of advice if you are looking to the perfect trek while visiting Taos.
JOHN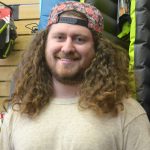 John grew up here in Taos and is still loving living here and spending his time outdoors with good friends. He enjoys skiing in the winter and backpacking and bike riding in the summers. Working at TMO has been a great way tor him to enable these hobbies, learn about the outdoor industry and meet like minded people. John is the guy to talk to if you are looking for those undiscovered places around Taos that only the locals know about!
SEAN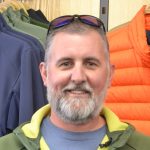 Sean is a former rafting guide who is currently working at TMO while he takes classes at University of New Mexico-Taos.  Sean is the best guy to ask for recommendations on your local rafting trip, as well as where to hang out after your adventure.  Sean also is an avid mountain biker who knows the trails around Taos and can point you to the right trail.
DAISY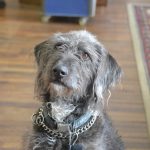 When you walk into Taos Mountain Outfitters chances are you will be greeted by Daisy, our sweet friendly shop dog!  If not laying in the sun by the front door, Daisy is usually curled up on the couch in the front of the store.  But be warned, if you open the BARK treat sample jar, Daisy will be at your side waiting for a sample of her own.  Daisy loves to hike, camp and explore and just be with people!
BILL
Bill and his wife Karen purchased Taos Mountain Outfitters in July 2016.  After 20+ years working at Department of Energy sites across the country, they needed a change.  Being campers and hikers, Taos seemed like the perfect place!  When not managing the store and talking to the customers, Bill can be found out on the trail, usually trying out a new product or scoping out a new adventure!