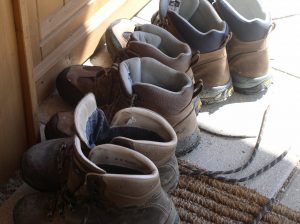 Shoes, Boots, Sandals and More!
Footwear is "the foundation" for any great Taos adventure. Our experts here at Taos Mountain Outfitters can help you select comfortable and supportive footwear. We are the place to get shoes in Taos or Northern New Mexico.
We feature the top brands you recognize and trust. Come in and let us help you select your boots, sandals, sneakers, or casual shoes for your lifestyle.
Our team of footwear specialists can help you decide on what shoe works for your foot. We carry the best brands for the active lifestyle. If your feet hurt – it affects everything. So we have some reminders to consider when purchasing shoes: Your feet change as you grow older so always have your feet measured before buying shoes. But remember – the Brannock measurement device is a foot measurement tool- not a shoe measurement tool – so don't let the size number make the decision. You need to decide what size feels the best on your foot.
Remember
1. Most of us have one foot that is larger than the other, so fit your shoe to your larger foot.
2. During the fitting process, make sure there is enough space (3/8″ to 1/2″) for your longest toe at the end of each shoe when you are standing up.
3. Make sure the ball of your foot fits comfortably into the widest part of the shoe.
4. Don't buy shoes that feel too tight and expect them to stretch to fit. This is especially important when buying shoes that are on sale or for hiking. Sale shoes can be a good deal but if they hurt you won't wear them. And, when hiking or doing any activity feet tend to get larger – so if our feet expand and there isn't room in your shoe – your fun adventure won't be so fun!
5. Your heel should fit comfortably in the shoe with some slipping. You want the shoe to have some slippage otherwise you are wearing the shoe TOO TIGHT. We don't want the shoe to ride up and down on your heel when you walk but there should be some movement.
6. Walk in the shoes to make sure they fit and feel right. We have a generous return policy; if you are unsure we allow you to take your shoes home to wear around the house and as long as they are in saleable condition we can do either a refund or exchange.
Proper footwear is important for enjoying any activity – whether it be work or play. Shoes are like tires on a car; it depends on the terrain and how much you use them. It is important to rotate your shoes – they will last longer. We are here to help you and look forward to answering any of your footwear questions!