Meet the Taos Mountain Outfitters Staff:
BILLY STEWART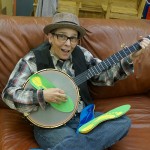 When he isn't talking to customers about foot ailments, Billy Stewart (aka Banjo Billy) can be seen around Taos playing his banjo with various other musicians. A former punk rocker and surfer, Billy has been in the shoe world for over 30 years and moved to Taos almost 10 years ago.  He organizes several bluegrass jams and can be heard most Monday evenings at the Taos Inn open mic.  A self-described former tree-hugger, Billy enjoys the outdoors and loves to find a special place on the trail to open up his banjo case and play a few tunes.
MICKEY O'KEEFE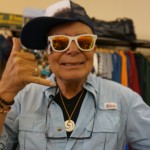 Want to know the history of Taos Ski Valley and Taos during the crazy hippie days? He may seem like a mild mannered gentleman able to answer your questions on outdoor apparel, shoes and gear but Mickey O'Keefe has a wild side that brings a real color to our TMO staff. A TSV ski instructor in the winter, Mickey straps on his Chaco sandals and heads to TMO for some warm weather duty during our summer months.  When not hob-knobbing with other outdoor enthusiasts in the area, you will find him donned in black leather riding his Harley around Taos and New Mexico.
GREG SAGEMILLER
Starting his 15th summer with TMO, Greg "Hollywood" Sagemiller is known throughout Taos and the TSV community.  In wintertime, Greg manages Terry's Sports at TSV.  But that isn't all he does. He keeps busy promoting his first novel, Walking Earth, released in the spring of 2012 – and also writing the sequel which will reveal the further adventures of Howie and Kika, expected to be released in spring 2015.  He is a trustee and past president of the Taos Archeological Society and the Archeological Society of New Mexico. He and his wife, Rebecca, are celebrating their silver anniversary this year.
JASON MURTHA
If you have been helped on a Sunday by an easy going, knowledgeable young man, then it was Jason who probably helped you. With coffee container in hand, Jason's familiarity with our various products can help make your shopping experience informative.  Jason keeps busy during the week with his craftsman and construction projects, and enjoys his free time with his wife Rachel and daughter, Sierra.